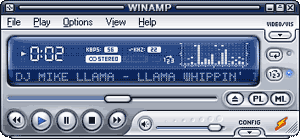 Iznākusi ir kārtējā mp3 atskaņotāja Winamp versija 5.02 .
Jaunumi kā parasti ir diezgan daudz, ja neteiktu vairāk, piefiksēju to ka ir sācis skanēt labāk, varbūt tāpēc, ka tiek izmantots Lame mp3 kodeks.
Kas tad ir mainījies:
Winamp 5.02:
* added a couple of gen_ml APIs
* fixed gen_ml radio/tv cache clearing after viewing prefs bug
* made gen_ml radio/tv keep old data when updating fails, made it not update when no
internet is available
* made gen_ml support some new quicksearch syntaxes: "* beck radiohead"
will list all things matching beck OR radiohead, and:
radiohead "<lastplay > [3 days ago]>" will show all things matching radiohead
played in the last 3 days...
* gen_ml option for any/all guess modes
* made SPS support 24 bit samples
* added priority setting for CD ripping
* made CD ripping only support one rip at at time
* added send to -> add to library for playlist (and other) send to menus.
* better media library audio view support for no artist/no album
* fixed enter after info box and popup menus in library
* moved litestep options to be in classic skin prefs
* fixed playlist editor classic redraw bug, made playlist handle mousewheel scrolling while
moving items better.
* made "EXE" filetype extension non registerable :)
* cleaned up "disable screensaver when video is playing" option
* latest SDKs available (AVS, Media library, new Winamp IPC calls, etc...)
* upgraded to Gracenote CDDB v2 DLLs
* improvements in gen_hotkeys
* upgraded MP3 encoding to LAME v3.95.1
* out_ds now uses winamp.ini instead of registry for settings
* new fix for upside down videos in in_dshow
* added OGM as supported extension in in_dshow
* modern skins updates :
- optimized region a bit
- fixed handling of global alpha for unparented layouts
- fixed tiny bug in keypress flow
- fixed potential layer capture cancellation issue
- fixed crash when quickly alternating alt+g and alt+w
- fixed player not coming up to front when playing a video via external URL click
- fixed assertion when arial.ttf (or whatever fallback font has been set) is not present in the font directory
- fixed faulty skin font unmapping sometimes conflicting with fallback to os default gui font
- added date and version functions to maki
- added added timerhours="1" to text object to show 1:00:00 instead of 60:00
- added timeroffstyle 3 and 4 to text object to display "0:00:00" and " : : "
- upped skin version to 1.1 - you MUST use 1.1 if you recompile your scripts
- updated maki compiler (
http://bluemars.org/maki

) :
- added stack protection to maki binaries - upped the binaries version header
- added self version check in maki binaries
- non-existing (future) maki functions will not crash the maki runtime anymore, YAY
- fixed unknown maki functions return values
- fixed winamp appearing on secondary taskbar with ultramon regardless of true position
- fixed extraneous invalidations
* new extended jump file dialog (thanks to Darren Owen)
* added basic MP4 AAC encoding/decoding (thanks to Menno Bakker for the help)
* fixed unicode metadata in in_vorbis
* fixed crash in installer code
* removed generation of "badframes.stt" files in VP6 decoder
* <3 farewell Justin <3
Novilkt var pie mums, un arī oficiālā saitā
http://download.nullsoft.com/winamp/client/winamp502_full.exe